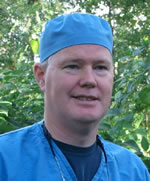 Dr. Kevin Smith is a Fellow of the Royal College of Surgeons (Canada) in Ophthalmology a. A Montreal native, he has been in private practice in Ottawa since 1992 as an ophthalmologist and oculoplastic surgeon, averaging 500 cataracts and 500 oculoplastics procedures each year. He is currently the team ophthalmologist for the Ottawa Senators Hockey Club.
Dr. Smith earned a B.Sc. in Mathematics, a Diploma in Management and an M.D.C.M. from McGill University, where he was active in varsity football (quarterback, 1975-1979), intramural basketball and volleyball, and was a member of the McGill Medicine Band.
His post-graduate training included:
Rotating Internship
1985-1986
St. Mary's Hospital, McGill University

Residency in Ophthalmology
Chief Resident
University of Western Ontario
1988-1991
- Upjohn "Resident Research Day" Award of Excellence
- Ophthalmic Photography Contest, First Prize

Fellowship in Ophthalmic Plastics and Orbital Reconstructive Surgery
McGill University
1991-1992
- McGill 15th Annual Clinical & Scientific Day Prize, Best Fellow's Paper
Dr. Smith worked for the Department of National Defense, first as a base flight surgeon in Portage, Manitoba (1986-1988) and then as an ophthalmologist with the rank of Major at the National Defense Medical Centre, Ottawa (1992-1997).
Dr. Smith is married with four children. He enjoys playing football, basketball, racquetball, tennis, hiking and sailing, as well as playing chess and stamp collecting. He and his family also enjoy their summer cottage in Ocean Park, Maine. He is a member of the Salvation Army Church.
---
"Kevin Smith is an accomplished ophthalmic surgeon residing in Kanata, Ont. He was born and raised in Pointe Claire, Que., the middle of five children. His childhood revolved around school, sports and playing the euphonium for the Salvation Army band. His passion for athletics continued well into his university years at McGill University, Montreal, during which he obtained a BSc in mathematics and a Diploma in management. In 1975 he became quarterback and captain of the McGill Redmen football team and was the top passer in his division."
Please download and read the rest of this article on Dr. Smith from The Canadian Journal of Ophthalmology.

Note: This article is a PDF. If you do not have the Adobe Acrobat Reader software to read PDFs, you can get it for free by clicking here or on the icon at right. If you are not sure if you have this software, try to open one of the PDF files.